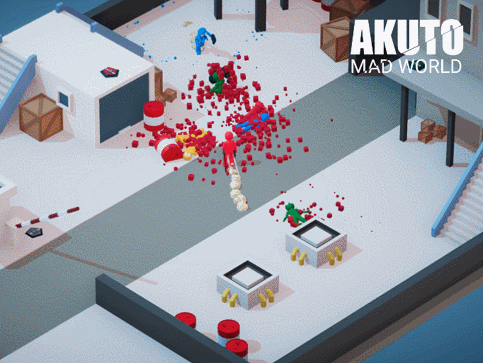 Welcome to February's monthly update for Akuto: Mad World. This month I didn't get much updates out for Akuto as I would have liked. The main reason for this is that I relocated Hut 90 to the USA. Yes, that's correct. Hut 90 is now officially a USA company. Most of the paperwork is completed now, which means I can get back to completing Akuto: Mad World.
I have managed to complete all the online levels and am now going to look at fixing all the online bugs and updating the matchmaking system. What I want to do is have the matchmaking system not rely on Steam, so that non-Steam players can play online as well. Maybe even try having cross-platform online. But this won't happen next month, but the month ever more likely. This is because I have two big events next month where I will be working more on the business side of Hut 90 instead of the game development side.
You can read on to see what major updates were released in February, with a full list of updates following that. At the bottom of this post, you will find what I am planning for next month. And remember, if you like the game, recommend it to your friends or leave us a review.
Akuto: Mad World is now available from Steam, Humble Store, and itch.io. Join us on our Discord server to talk more about Akuto: Mad World and our other games.