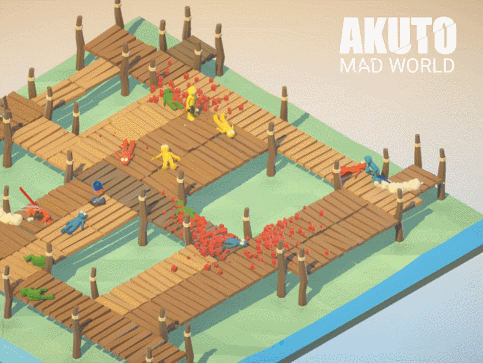 Welcome to November's monthly update for Akuto: Mad World. This month I completed the Steam Workshop integration with the game, and created an in-game gallery to view GIFs created by the players. The game is also now available from itch.io, and there is now an official Discord server for Akuto: Mad World and other games I will release in the future.
You can read on to see what major updates were released in November, with a full list of updates following that. At the bottom of this post, you will find what I am planning for next month. And remember, if you like the game, recommend it to your friends or leave us a review.
Akuto: Mad World is now available from Steam, Humble Store, and itch.io.
New Content in November
Gallery
You can now view all your captured GIFs in the in-game gallery! Remember, to capture GIFs, you have to enable it in the settings menu. After that, all you have to do is press up on the d-pad and it will automatically capture the last 3 seconds of gameplay.
Steam Workshop
Steam Workshop is now integrated into the game. This means you can share your custom levels with the world and download custom levels from the community. I can't wait to see what everyone creates with the level editor.
Fixes and Updates in November
View captured GIFs in the in-game gallery
Custom levels will show the level instead of a generic image
Upload, download, and play custom levels with the Steam Workshop integration
Stats menu updated for online mode
Optimized input system
Plans for December
I was planning to release the online mode this month, but found it was not connecting correctly to other players without port forwarding. This would lead to a very bad user experience so I decided to hold off on releasing the online mode. Depending on if I manage to get port forwarding working, the alpha version of online should be out in December.
And remember, if you like the game, recommend it to your friends or leave us a review.